LINDNER golf socks, golf sneaker, footies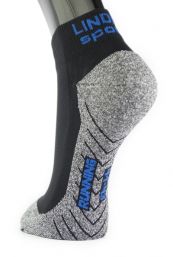 | | |
| --- | --- |
| Show 1 to 8 (of in total 8 products) | Sites: 1 |
*) 19 % VAT incl. excl. Shipping costs
worth knowing

Especially in sports, it depends on functional socks. Compression stockings support the calf, which the muscles are greatly reduced vibrations. For this reason, they are ideal to preemptively counteract muscle damage and to help to a hamstring rehabilitation. In addition, athletes will appreciate the increased tissue pressure. This ensures better combustion, quicker recovery and increased efficiency.

Other stockings provide targeted cushioning even on longer trekking tours in exceptional comfort wear or by a suitable choice of materials to a pleasant foot climate. LINDNER offers you a selection for the areas of running, trekking and skiing.

Quality
LINDNER products are subject to product testing in our Quality Management System. Should you have any complaints about our product, we ask you to contact your dealer or contact us.